Accelerate your innovation and project portfolio delivery capability
LYNX project portfolio management software enables you to optimize program and project portfolios, balance capacity against demand, prioritize work, focus your resources, and empower teams to deliver.
Success depends on your company's ability to respond quickly to market and customer demands, adapting through uncertainty.
As a Portfolio Manager or PMO, you are in a prime position to guide your organization to shift priorities and ensure that delivery outcomes align with strategic plans.
Also the role of the PMO is changing, and project portfolio management needs to evolve to more modern approaches that support the hybrid reality.
LYNX can be your guide to help you fulfill your portfolio improvement and delivery capabilities along the following dimensions: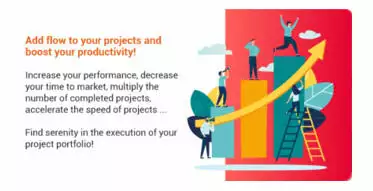 (Predictive) Analytics and KPI's to measure your current portfolio performance
Dashboards/Reports: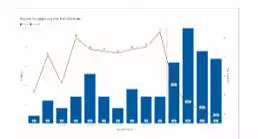 Heatmaps / Multi-Project Feverchart
Throughput of projects
Trend in task completion
Skill buffer penetration view / report
Forecasting current and future resource requirements:

WIP Diagram resource load risk
Load Factor Analysis to identify risks
Continuous Improvement: Flow , queues and Work-in-Progress (WIP) Measurement:
Flow WIP Diagram
Continuous Flow Diagram
Switch between modes: Standard Mode / Debuffered mode -> Project Statistics
Integration with Power BI or Tableau
Constraint Detection Tools
Multi-Level Scenario Planning and Simulation:

Standard Mode or Debuffered Mode
What-if Analysis makes it possible to simulate various scenarios of project development: you can change some of the variables and see what consequences this will have in the future.
Compare Scenarios side by side

Automatic Pipeline Optimization

Flow Based
Date or Deadline Based

Synchronize Portfolio Management with Resource Management
Include Financial Information and Budgets (as Zeiss has implemented)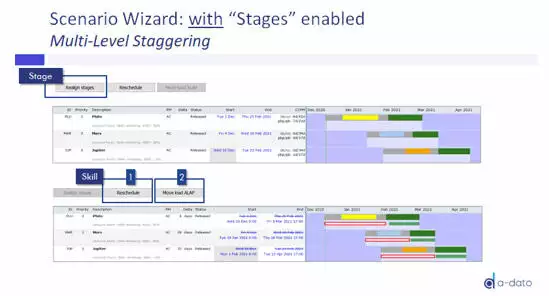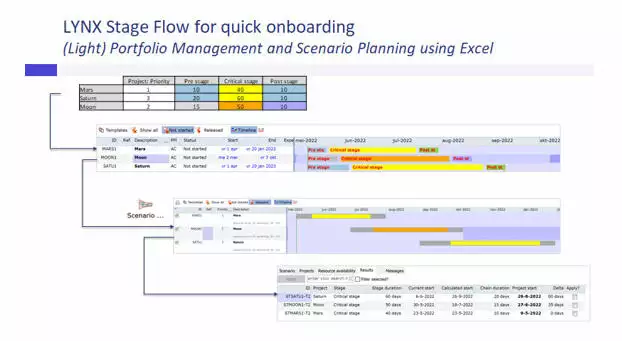 Recommend the optimal way of working for your organization. There is not one way of working:
LYNX Essential / LYNX Extended
Multiple Schedule Engines and Hybrid Approaches
Hybrid: Multi-Level Planning with Cards and LYNX TameFlow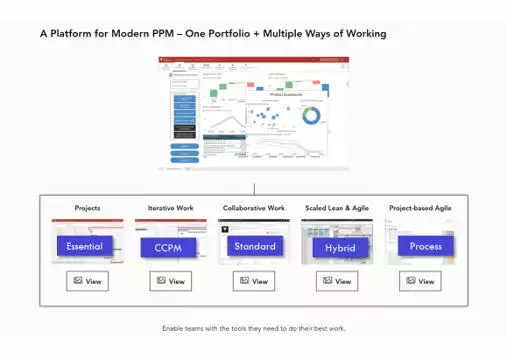 Hybrid & LYNX Tameflow
Evolving Toward New and Hybrid Ways of Working
Modern project portfolio management approaches let you empower your teams with the right work experience and tool for the type of work being delivered – waterfall projects, iterative, collaborative, Lean-Agile. This work can be tied back into the integrated strategy and portfolio plans, enabling stakeholder visibility and organizational alignment.
LYNX TameFlow  provides your teams with the tools to work how they deliver fastest and gives the PMO the ability to adjust portfolio and capacity planning, track KPIs, and enable adaptive governance.
Equip your teams with the right tools to work and deliver their best work fast:
Project-centric work

Project portfolio management tools with LYNX  Pro for traditional waterfall projects
Collaborative workspaces in Projectplace

Process-centric work

Integrations to third-party agile tools such as Jira or Azure DevOps
Enterprise Kanban to support agile methods and workflows in Planview LeanKit
Planview PPM solutions allow you to pull together all work details from these team tools into your project portfolio solution so that you can easily report to stakeholders and executives the metrics and KPIs that indicate progress on strategic delivery.
Sign up and get in touch
After completing the sign-up form you will get access to the latest version of the LYNX TameFlow Personal Task Manager from February onwards. You will receive an email with your personal download link soon from us.
If you have any questions, you can of course contact us without obligation.