Benchmark yourself and do the Online Multitasking Fast-Test.
Did you know that people and companies with little multitasking are significantly more successful than those with a lot of multitasking? This is one of the most important results of the Multitasking study.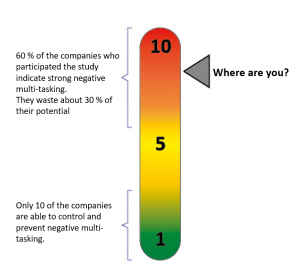 With this quick online Multitasking Fast-Test test (takes only about 1 minute) you can determine your multitasking status immediately and anonymously.
The test consists of 7 symptom questions, from which the multitasking score is calculated from 0 (perfect) to 10 (extreme multitasking) – as in the study and graph.
By the way, you also get a rough estimate of how much more projects you could make if the negative multitasking would be eliminated.